Adriana Artunduaga-Mendez
Ms. Artunduaga-Mendez is a personal injury attorney dedicated to providing the highest standards of legal services to her clients. Excellent customer service and advocacy are her main focuses. She works hard to ensure that her clients are well informed. Moreover, She always tries to make her clients feel accompanied and understood throughout the legal process.
Adriana is fluent in Spanish and is delighted to provide her legal services to the Latino & Hispanic community.
Adriana started her legal career as a clerk for a well known attorney in Colombia whom posteriorly was appointed as an associate Justice of the Supreme Court. She then moved to the corporate sector where she was handling transaction and contracts for a few years.
Adriana obtained her Juris Doctor degree from The Pontificia Universidad Javeriana in Bogota- Colombia where she was through her five years of legal education in the Dean's list and graduated with honors. She obtained her Masters of Laws from the University of California, Berkeley. She also holds a certificate of specialization in intellectual property from the University of California, Berkeley.
Need advice? Contact the Law Offices of Laskin Balma today!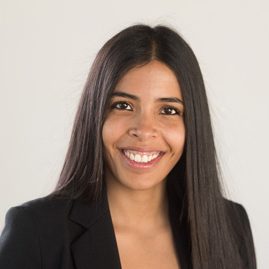 The Pontificia Universidad Javeriana in Bogota- Colombia
Juris Doctorate
University of California, Berkeley
Masters of Laws
University of California, Berkeley
Certificate of Specialization in Intellectual Property