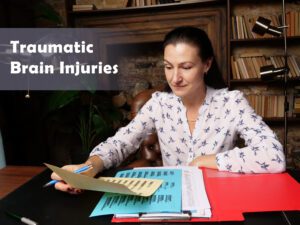 At Lakin Balma Attorneys at Law, we're dedicated to serving our Sacramento community with expertise and compassion. Our team understands the devastating impact that traumatic brain injuries (TBIs) can have on individuals and their families. We're here to provide the support and legal guidance you need to reclaim your future after a TBI. In this blog, we'll discuss the role of a traumatic brain injury lawyer in Sacramento and how we can help you navigate the challenges that come with such a life-changing event.
The Importance of a Traumatic Brain Injury Lawyer Sacramento
When you or a loved one suffers a traumatic brain injury, seeking professional legal representation is crucial. A TBI can result from various accidents, such as car crashes, slips and falls, or workplace incidents. These injuries often require extensive medical treatment and long-term care, leading to substantial financial burdens. This is where a traumatic brain injury lawyer comes in.
How We Can Assist You
At Laskin Balma Attorneys at Law, we understand the complexities of traumatic brain injury cases. Our experienced team of lawyers specializes in personal injury law, with a focus on TBIs. Here's how we can assist you:
Thorough Investigation: We'll conduct a comprehensive investigation to determine liability and establish the cause of your traumatic brain injury. This includes gathering evidence, interviewing witnesses, and consulting with medical experts to build a strong case.
Insurance Claims: Dealing with insurance companies can be challenging, especially when you're focused on recovery. Our team will handle the negotiation and communication with insurers to ensure you receive fair compensation for your medical expenses, lost wages, and pain and suffering.
Legal Advocacy: In court, our experienced traumatic brain injury lawyers will vigorously advocate for your rights. We'll work tirelessly to hold the responsible parties accountable and seek the maximum compensation you deserve.
Long-Term Planning: We understand that TBIs can result in lifelong challenges. We'll work with you to develop a long-term plan that considers your ongoing medical needs, rehabilitation, and quality of life.
Compassionate Support: We recognize the emotional toll a traumatic brain injury can take on individuals and their families. Our team provides compassionate support throughout the legal process, offering guidance, advice, and a caring presence during your journey to recovery.
The Legal Process: What to Expect
Navigating the legal process can be daunting, but we're here to guide you every step of the way. Here's an overview of what you can expect when working with a traumatic brain injury lawyer from our Sacramento team:
Initial Consultation: We'll start with a confidential and no-obligation consultation. During this meeting, we'll discuss the details of your case and assess its merits.
Case Evaluation: After evaluating your case, we'll outline the potential outcomes, legal strategies, and estimated timelines for resolution.
Filing a Lawsuit: If necessary, we'll file a lawsuit against the responsible parties, and the legal proceedings will begin.
Negotiation and Settlement: In many cases, we can negotiate a fair settlement without going to trial, ensuring a quicker resolution for you.
Trial Representation: If a fair settlement cannot be reached, our experienced trial attorneys will vigorously represent you in court.
Conclusion
Suffering a traumatic brain injury is a life-altering experience, but you don't have to face it alone. Laskin Balma Attorneys at Law is your partner in pursuing justice and securing the compensation you need for your recovery.
If you or a loved one has experienced a traumatic brain injury in Sacramento, don't hesitate to reach out to us. We're your dedicated traumatic brain injury lawyers, committed to helping you rebuild your life. Contact us today for a free consultation, and let us be the support you need on your journey to recovery.