I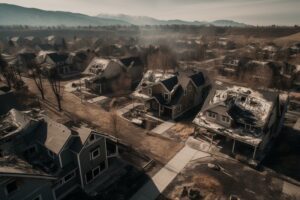 n the wake of a wildfire's devastating path, the challenges of property loss can be overwhelming. At Laskin Balma Attorneys at Law, we understand the upheaval these disasters bring. As your dedicated Northern California wildfire property loss legal experts, we're here to guide you through the aftermath, ensuring your rights are upheld and your claims are justly pursued.
Understanding Property Loss During Wildfires
The fury of a wildfire leaves destruction in its wake. Homes, businesses, cherished possessions – all can fall victim to the relentless flames and smoke. Factors such as wind, ember showers, and the speed at which wildfires spread contribute to property loss that can be both swift and extensive.
Your Rights in the Face of Property Loss
As property owners impacted by wildfires, you have rights that deserve protection. Insurance policies are designed to provide coverage against such unforeseen disasters. However, dealing with insurance companies and their intricacies can be a daunting task, especially when grappling with the trauma of property loss.
How Our Experienced Legal Experts Can Help:
1. In-Depth Assessment:
Our team begins by thoroughly assessing the extent of your property loss. We understand that each loss is unique, and we tailor our approach to your specific situation.
2. Insurance Claim Preparation:
We leverage our deep understanding of insurance policies to ensure that your claim is comprehensive and accurate. This meticulous approach minimizes the chances of claim denials or underpayments.
3. Effective Negotiations:
Dealing with insurance companies can be intimidating. Our legal experts skillfully negotiate with these entities on your behalf, ensuring that your claim receives the attention and compensation it deserves.
4. Legal Advocacy:
In cases of disputed claims or unjust denials, our legal team steps up as staunch advocates. We're not afraid to take legal action when necessary to ensure your rights are upheld.
5. Proven Expertise:
With years of experience as Northern California Wildfire Property Loss Legal Experts, we bring a track record of success to the table. Our proven expertise gives you confidence that your claims are in capable hands.
Seek Guidance From the Top Northern California Wildfire Property Loss Legal Experts Now
When the flames of a wildfire leave property loss in their wake, the road to recovery can be daunting. At Laskin Balma Attorneys at Law, we're more than legal experts; we're your partners in rebuilding. As your Northern California wildfire property loss legal experts, we're dedicated to securing the compensation you deserve, restoring your peace of mind, and helping you reclaim your future. Let us stand by your side as you navigate this challenging journey.